East and West Shaking Hands at Laying of Last Rail
Photograph, 1869
Andrew Joseph Russell, American, 1829–1902
---
Courtesy of the Beinecke Rare Book & Manuscript Library, Yale University
The decision of where to meet the Union Pacific and Central Pacific railroads required nationwide cooperation. A visit by a commission of the Interior Department, in addition to a Joint Resolution in Congress on April 10, 1869, was required to "fix" the rails in Utah Territory at Promontory Point.
On May 10, 1869, the final spikes were laid in the tie and rails, marking the completion of the world's first transcontinental railroad. Technological advances allowed for a telegraph line to be wired to the golden or last spike; when the mallet struck the spike, everyone knew the time of the "wedding of the rails" with three taps on the telegraph key to signify that the work was "done." Additionally, photography played a central role in documenting this event, when photographers Alfred A. Hart, Andrew J. Russell, and Charles R. Savage captured the well-known imagery of the celebration of the final meeting of the spike and connection of the rails.
Photograph, 1869
Andrew Joseph Russell, American, 1829–1902
---
Courtesy of the Beinecke Rare Book & Manuscript Library, Yale University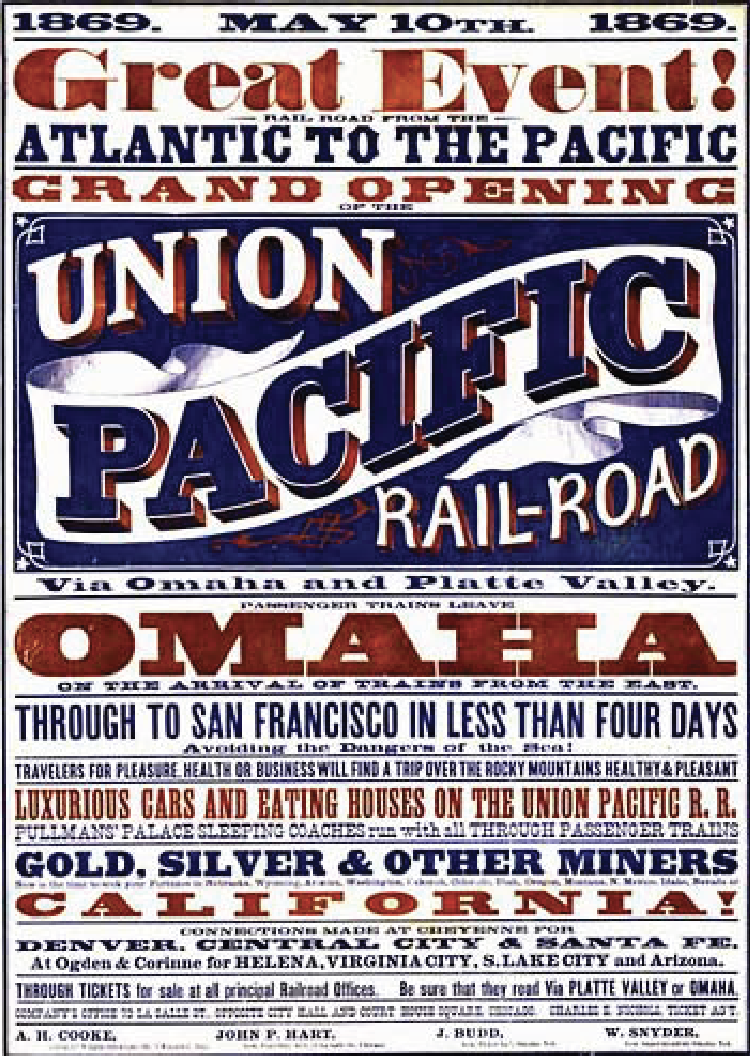 Photograph, 1869
Alfred A. Hart, American, 1816–1908
---
General view at Promontory, Utah on May 10, 1869, during the "Last Spike" ceremony when the Central Pacific and the Union Pacific were joined. The picture is taken from the Union Pacific locomotive #119, looking westward, and shows the four companies of the 21st Infantry in formation alongside the track. Central Pacific's locomotive, Jupiter, and tent buildings of Promontory are also shown.
---
Courtesy of Utah State Historical Society
---
"There is henceforth but one Pacific Railroad of the United States!"
---
Thomas Durant, Vice President of the Union Pacific Railway
---
---
---

---