Salt Lake West Side Stores: Post Twenty-Four
By Brad Westwood and Cassandra Clark
The above photograph was described by the photographer as "Wright's Card Club, Blacks, at 313 E. 8th S. [Salt Lake City, Utah], April 27, 1945; Ray King, photographer; Salt Lake Tribune Negative Collection; Courtesy of the Utah State Historical Society.
With the first African American churches located in this neighborhood, between the city's railroad facilities, the city's vibrant African American community had its beginnings.
Besides the known pre-settlement travelers, African Americans entered the Salt Lake Valley in the mid-1800s as both enslaved and free individuals. African Americans settlers were some of the first inhabitants of Mormon settlements dating back to 1847. Later, the arrival of the railroad increased their numbers substantially, especially after the 1880s and into the mid-twentieth century. Many black Utahns were employed in railroad construction and maintenance, and the largest number served as train porters, cooks, and waiters. In 1873, Salt Lake City's African Americans held a public citizens' meeting to discuss how to claim and strengthen their rights under the 13th amendment (which went into force in early 1865). Beyond the railroad, African Americans worked as servants, dressmakers, barbers, and shoemakers.
Salt Lake City had a small but vibrant Black community for most of its history. There were almost twelve hundred African American Utahns counted in the Census of 1910. African American Utahns opened hotels, restaurants, and clubs that served Utah's Black citizens. The majority of African American-owned businesses were located around and between the city's railroad depots near today's Pioneer Park.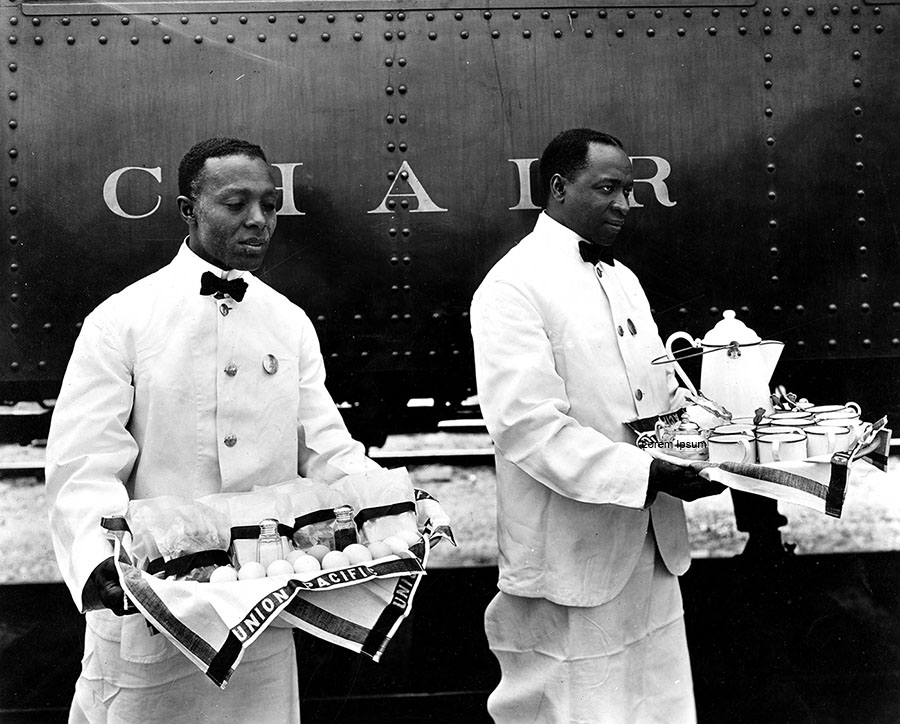 Previous historical narratives mistakenly concluded that nineteenth-century Utah was a more law-abiding, better organized, less violent, and peaceful place in comparison with the rest of the otherwise lawless and vigilante-prone American West. Recent deep dives into the history of the American West and Utah's early settlement and territorial periods offer a more nuanced history of the complexity and interconnection of the West with the rest of the United States. What historians have uncovered is that Euro-Americans seeking to colonize the Great Basin participated in violent acts against Native American groups. Additionally, Utah settler history includes cases of domestic violence, inter-ethnic violence, and so-called "mountain justice"; families, individuals, and/or communities chose to deal with criminal behaviors outside of the law. What is important to note is that violence was not unique to the western portion of North America. Concepts of the west as "wild" were circulated by media and fiction stories during the late nineteenth century. Lynching in Utah is set against a national background of violent acts toward African Americans and people of color during the nineteenth century.
One such part of Utah's complicated past includes the lynching of Sam Joe Harvey. Harvey, a Black man, and United States Army veteran, arrived in Utah in 1883. According to sources, he established himself as a "bootblack" or boot shiner in front of Hennefer & Heinau's barbershop" located on Main Street in Salt Lake City. On the morning of August 25, 1883, by standards accused Harvey of shooting and killing Salt Lake City Marshal Andrew H. Burt. In less than thirty minutes after Burt's death, officers apprehended Harvey, beat him, and released him to an angry mob who lynched him.

It is important to recognize that accounts regarding Harvey's actions on that hot August morning come from the perspective of the lynchers who wanted their act to appear justified. The police officers nor the violent mob denied Harvey his Constitutional right to due process. Harvey was not given the opportunity to testify, nor did a court of law evaluate evidence regarding his alleged killing of Burt. Without Harvey's perspective, we can only make assumptions about what happened the day Burt died.
According to newspaper accounts, Harvey entered the main street restaurant owned by Afro- Caribbean American businessman F. H. Grice. Harvey supposedly asked Grice for a job. Grice called the police station claiming that Harvey threatened him with a pistol. Grice offered Harvey two dollars a day and transportation to and from his farm located twelve miles outside of the city. Grice claimed that after he told Harvey about the location of the farm, Harvey allegedly yelled at Grice and his customers. Grice said Harvey also pushed him outside and pulled a gun out. Harvey then left the restaurant and Grice went to the police station and met with Sherrif Burt. Burt was a well-liked marshal Burt, a well-known and liked marshal with over twenty years of public service and who was also the bishop of Salt Lake City's Twenty-first Ward, answered Grice's call and discovered that Harvey had asked Grice for work.
Burt set off on foot to locate Harvey. He found him on the corner of Main and Second South holding two guns. After leaving the restaurant, Harvey entered the general store to buy a rifle. Newspapers alleged that Harvey shot Burt after the officer asked Harvey if he was "an officer." Burt supposedly staggered from the scene and subsequently died from his wounds.
Eyewitnesses apprehended Harvey and held him until the police arrived to take him to the county jail that was located adjacent to the county courthouse at 156 West 200 South. Reports claim that officers severely beat Harvey while he was imprisoned. The officers then surrendered him to an angry mob of Utahns who had gathered at the courthouse. "Dozens of hands" grabbed Harvey, and minutes later, fashioned a painter's rope into a noose and hung him from a rafter in a nearby livery stable. The mob then dragged his corpse behind a team of horses down State Street, which is located two blocks south and east of Temple Square until Salt Lake City Mayor William Jennings stopped the violent procession. Burt was one of the first members of the Salt Lake City police to be killed in the line of duty. His headstone reads, "He met his death at the hands of a desperado." Meanwhile, Harvey's body was buried in a shallow grave just outside the Salt Lake City Cemetery, and his skeletal remains were found two months later by two men digging for gravel.
Of course, Burt's murder was not Salt Lake City's first nor last. However, most defendants received—more or less—their Constitutional right to due process. The act of vigilante justice and its confusing newspaper coverage speaks volumes about race relations in nineteenth-century Salt Lake City. Captain Burt's memorization, which included a eulogy delivered to a packed house at the Salt Lake Tabernacle, demonstrates how early Utah residents honored their most respected community members. In contrast, the lynching of Harvey was not atypical of white and African American interactions in post-Civil War America. On a national scale, Whites used the act of mob violence and lynching to enforce and uphold racial and class hierarchies. In short, Utahns chose to honor Burt while simultaneously believing that Harvey, an impoverished African American man was guilty of murder without a trial.
Without a doubt, this incident had a chilling effect on the approximately 250 African Americans living in Utah territory. Utah was not a slave state before the Civil War (although it did have a law allowing for slavery in the territory) and wished to stay above the fray in the national slavery debates. Nevertheless, with this action, it was made abundantly clear that the 1883 Salt Lakers held the same deep-seated racial biases held by individuals throughout the United States.
African Americans contributed to Utah's economic, political, social, and cultural landscape.
As you can see, Utah has a diverse and complex history. African Americans were however contributors to Utah's economic, political, social, and cultural landscape. In our next post, we will continue to discuss the African American community, in the next century, in and around the Pioneer Park neighborhood.
Would you like to read the next post? African Americans and Salt Lake's West Side: Part Two
Click here to return to the complete list of posts.
---
Interactive Activities: (a) Explore the 1619 Project developed by The New York Times Magazine which "aims to reframe the country's history by placing the consequences of slavery and the contributions of black Americans at the very center of the United States." (b) Listen also to the Speak Your Piece podcast of Dr. Paul Reeve (University of Utah professor of history) speaking to host Brad Westwood about Mormonism's nineteenth-century African American members. Reeve also speaks about his book Religion of a Different Color: Race and the Mormon Struggle for Whiteness (Oxford University Press, 2015) where he considers Mormons and ideas about whiteness within the broader 19th-century American society. Speak Your Piece: A Podcast about Utah's History (c) Get to know Utah's Sema Hadithi Foundation "an American heritage and culture foundation that strives to "tell the story" of African-ancestor history, heritage, and culture by researching, preserving, and disseminating information throughout the community."
Contributors: Special thanks to Dr. Ronald Coleman (professor emeritus, Ethnic Studies Department, University of Utah), Will Bagley (Western historian) and Dr. Cassandra Clark (Public Historian, Women's History Initative Coordinator, Utah Division of State History) for contributing to the content of this post. Profound gratitude to Lisa Nelson and the narrators at the Utah State Library's Reading for the Blind Program for creating the audio for this post.
Selected Readings:
Racial Lynching in Utah (website), University of Utah professors Paul Reeve and James Tabery, 2022.
Miriam B. Murphy, "African Americans Built Churches," History Blazer, Utah State Historical Society, July 1996.
Thomas G. Alexander and James B. Allen, Mormons & Gentiles: a History of Salt Lake City, Pruett Publications Co., (Boulder: Pruett Pub. Co, 1984), 119-120.

Becoming Utah: African Americans and the Pursuit of Equality, Thrive125, Utah's 125th (1896-2021) statehood anniversary film series.
Ronald G. Coleman, "Blacks in Utah History: An Unknown Legacy," in Helen Z. Papanikolas, ed., The Peoples of Utah (Salt Lake City: Utah State Historical Society, 1976).

"Decrease in Lynching Habit" Salt Lake Tribute, January 16, 1913, https://newspapers.lib.utah.edu/details?id=4735933&facet_paper="Logan+Republican"&date_tdt=%5B1913-01-01T00%3A00%3A00.000Z+TO+%2A%5D&q=%28Lynching%29

"A History of Blacks in Utah, 1825-1910" Ph.D. Dissertation, (Salt Lake City: Utah State Historical Society, 1976).

Harold Schindler, "A Lynching at Noon," in In Another Time (Boulder: University Press of Colorado, 1998), 166-169.
Do you have a question or comment, write us at "ask a historian" – askahistorian@utah.gov